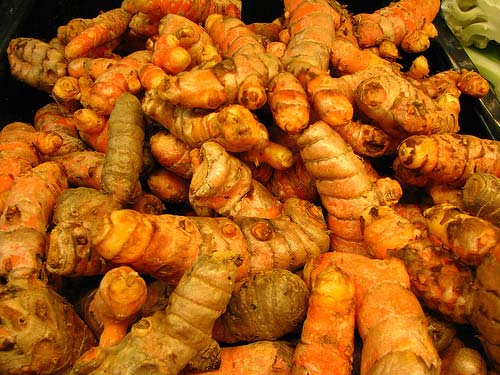 Intro
Turmeric is a
herbaceous
perennial plant
from the
ginger
family.
Turmeric comes from the root of the Curcuma longa plant and has a tough brown skin and a deep orange flesh.
Turmeric has long been used for its powerful anti-inflammatory properties in both the Chinese and Indian systems of medicine. Turmeric was traditionally called "Indian saffron" because of its deep yellow-orange color and has been used throughout history as a condiment, healing remedy and textile dye.
Turmeric has a peppery, warm and bitter flavor and a mild fragrance slightly reminiscent of orange and ginger. It is best known as one of the ingredients used to make curry and it also gives mustard its bright yellow color.
People in India refer to Turmeric as 'Holy Powder.' It has been
used for centuries to treat wounds, infections, and other health problems. Modern research is now confirming an astonishing array of antioxidant, anti-cancer, antibiotic, antiviral, and other properties. Turmeric is a
general immune system booster due to its high antioxidant capacity and is five to eight times stronger than vitamins C and E.
Turmeric is an excellent source of both iron and manganese. It is also a good source of vitamin B6, dietary fiber, and potassium.
It has also been shown to be highly anti-cancerous, inhibiting cancer cell growth and metastasis.
Recent research has discovered that the curcumin found in turmeric acts by inserting itself into your cells' membranes where it changes the physical properties of the membrane itself,
making it more orderly.
This improves your cells' resistance to both infection and malignancy, and may help prevent a number of debilitating diseases such as:
Cystic Fibrosis

Psoriasis

Type 2 Diabetes

Gallstones

Crohn's Disease

Inflammatory Bowel Disease

Rheumatoid Arthritis

Muscle Degeneration

Cataracts
Every morning for the last month, I have been taking about two ounces of my homemade turmeric tonic. I purchased the turmeric at Whole Foods for $8.99 a pound. I know this may sound pricey but it is definitely worth it. Whole Foods will juice it for you for $1.00. A pound will yield roughly 16 oz. I always ask for them to juice mine using the wheatgrass juicer. You get more juice for your buck than u
sing the regular juicer. You can also find turmeric for a much cheaper price at international markets like the Dekalb Farmers Market or Super H Mart in Riverdale for $2.99 a pound. I have noticed that my skin has a healthy glow!
Turmeric Tonic: Anti-Inflammatory Elixir
Ingredients

:
4 pieces fresh turmeric (If you get the turmeric juiced at Whole Foods you can use a cup of the juice)

3 inch piece of ginger

Juice of 4 lemons

Dash of cayenne

2 cups young coconut water (You can use filtered water if you don't like coconut water)

Sweetner to taste (Agave, Coconut nectar, Honey)
Juice the turmeric, ginger, and lemons. Add the juice to the young coconut water or filtered water. Add the cayenne and sweetner of your choice. Stir well to combine. Store in the refridgerator.
A Few Quick Serving Ideas:
Add turmeric to egg salad to give it an even bolder yellow color.

Although turmeric is generally a staple ingredient in curry powder, some people like to add a little extra of this spice when preparing curries. And turmeric doesn't have to only be used in curries. This spice is delicious on healthy sautéed apples, and healthy steamed cauliflower and/or green beans and onions.

For a creamy, flavor-rich, low-calorie dip, try mixing some turmeric and dried onion with a little sour cream or softened cream cheese, salt and pepper. Serve with raw veggies.

Turmeric is a great spice to complement recipes that feature lentils.

Give salad dressings an orange-yellow hue by adding some turmeric powder to them.

Cut cauliflower florets in half and sauté with a generous spoonful of turmeric for 5 minutes. Remove from the heat and toss with olive oil, salt and pepper to taste.